Obo Natural Park of Sao Tome and Principe
As signatory to the Convention on Biodiversity (ratified through Presidencial act. in 1998), the country has committed to a framework and political/institutional activities both national and international in order to devise solutions for the preservation of biodiversity. The first step in the implementation of the Convention at the national level was the creation of a National Cell for Biodiversity, whose aim it was to provide leadership on implementation of the convention clauses, and to draft a national strategy for biodiversity and plan of action.
Thanks to this comprehensive, detailed work on the state of biodiversity in Sao Tome and Principe, and the conclusions and recommendations set forth, it became possible to define a national strategy and plan of action for biological diversity in Sao Tome and Príncipe. As a result of an environmental preservation program begun in 1992, a ecotourism strategy has been launched witch has led to the creation in 1993 of the protected areas of the Obo National Park to protect Sao Tome and Principe islands unique natural heritage.
The Obo Park consists of two areas, one in the island of Sao Tome with a 235 km² surface and another on Principe island, with a 65 km² surface area (nearly half the island). Later, the Tinhosa Islands Nature Preserve was created, covering 15ha, and the Rolas Islet Preserve, covering 6ha. 4 protected áreas in total, covering a land surface of 29,537ha, which correspond to about 30% of the country's surface. This ambitious project was incorporated into the Ecofac program, which is of great relevance to central Africa, and it's goal is to rationally protect and preserve forest ecosystems. Through ecotourism, the forest can be adequately valued and enjoyed.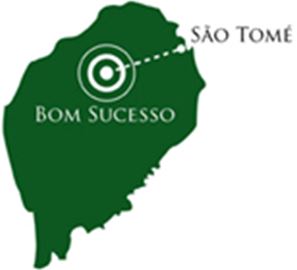 Bom Sucesso Botanical Garden
The Botanical Garden is the gateway to Obo National Park. It is located at Bom Sucesso (1.115 m. asl), which used to be part of the old Monte Cafe plantation. With over 400 species of endemic flora and over a thousand samples of plants, this Botanical garden and Herbarium were created to educate people, and the younger generations especially, on matters of biology and systematic botany. Not only that, but also to preserve endangered species off-site, to collect living specimens and data for scientific research and finally, for touristic and recreational ends. Shading sheds for certain species were created in Bom Sucesso, especially for the orchids culled in the forests of Sao Tomé and Príncipe islands. These flowers were initially picked for phonological studies and are now popular tourist attractions. At Bom Sucesso botanical garden it is possible to see more than 100 different orchids from both islands of Sao Tome and Principe.